Katolicki ślub kościelny i wesele w tajdze w Górach Czerskiego w Jakucji, po jeździe autostopem ciężarówkami po zamarzniętych rzekach.
Католическая церемония бракосочетания и свадьба в тайге Черских гор в Якутии, после автостопа (в грузовиках) по замерзшим рекам.


Videos and a full photo gallery are at the bottom of the page

General information
After some years of engagement, we finally were ready to get married. Judith, knowing my way of living, said "Maybe in Siberia?". Well, she did not really realize the vision that I will immediately have in my head. A vision almost completely crazy, but – as the time showed – fully feasible!
At first, I wondered – is this even possible with respect to the canonical law? It turned out to be not a problem at all – we just had to get some paperwork done.

Location of the marriage ceremony: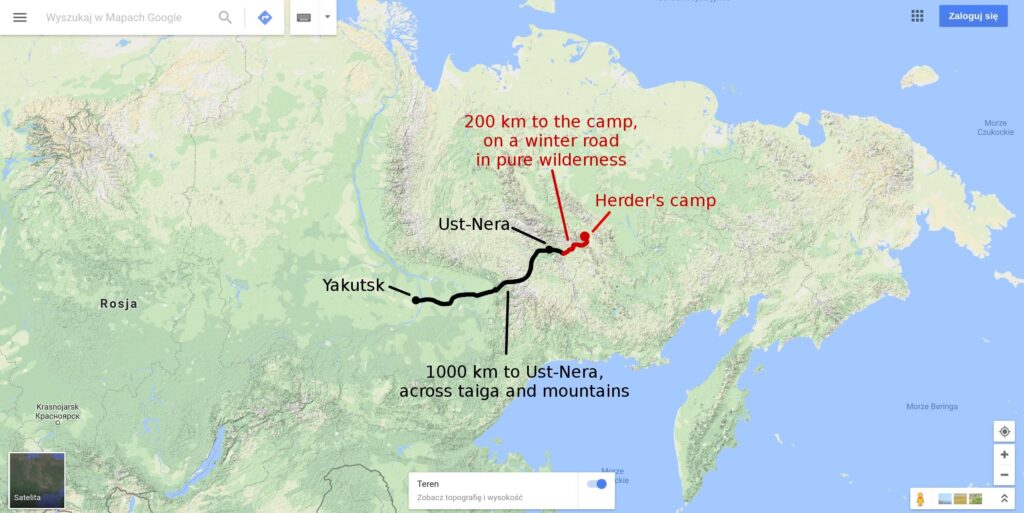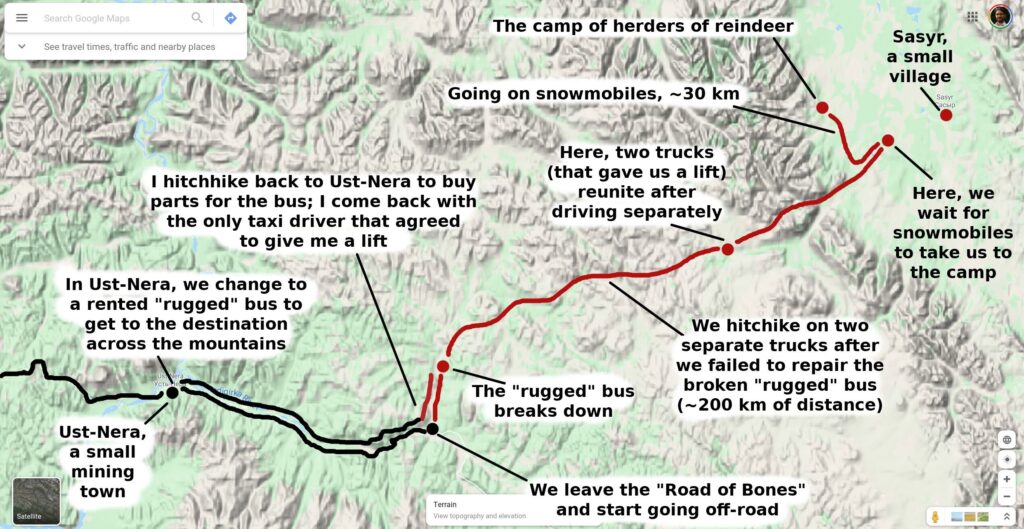 We organized the whole expedition ourselves, with help and support from a bunch of friends and colleagues.

Photo Highlights:
The ceremony and related: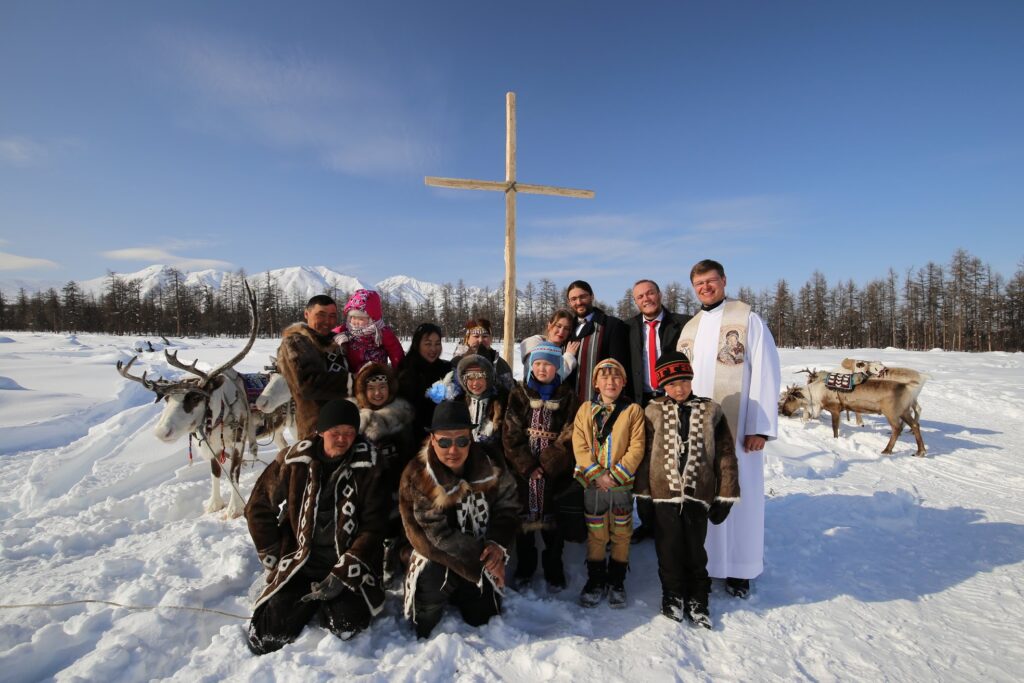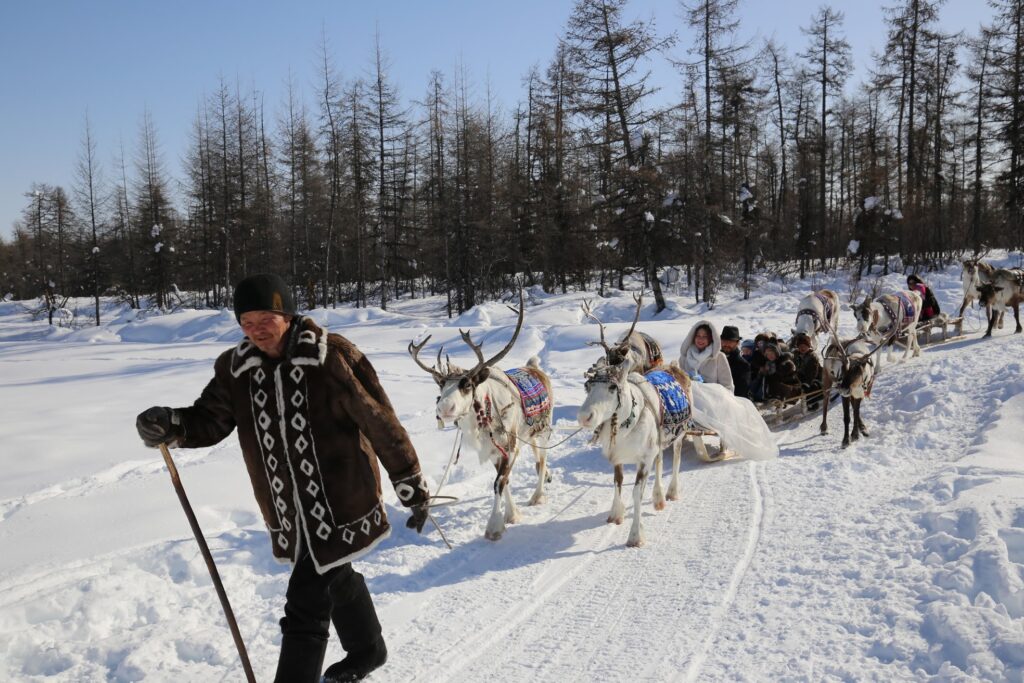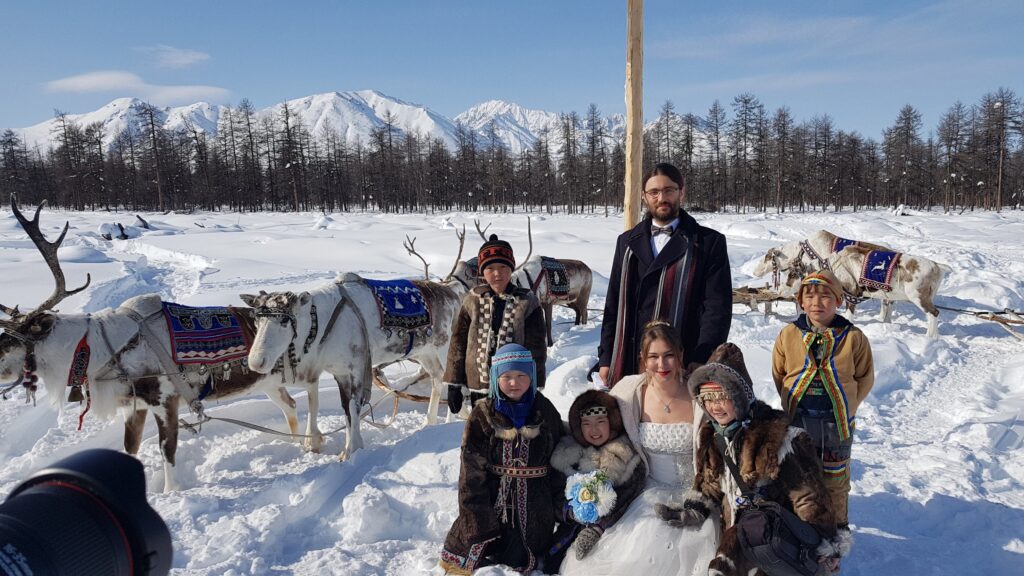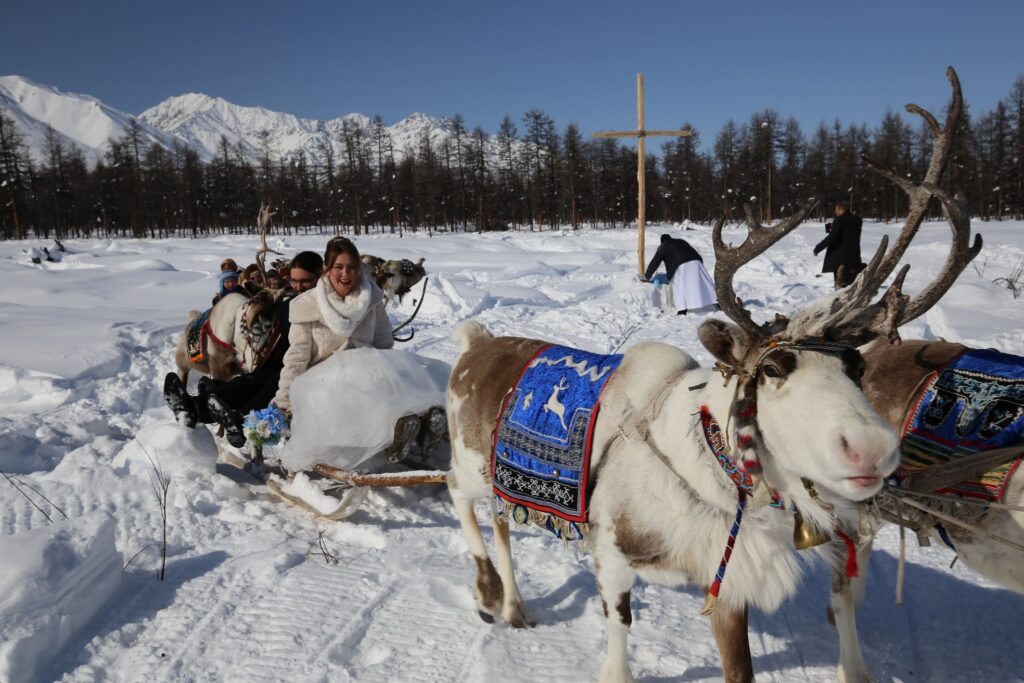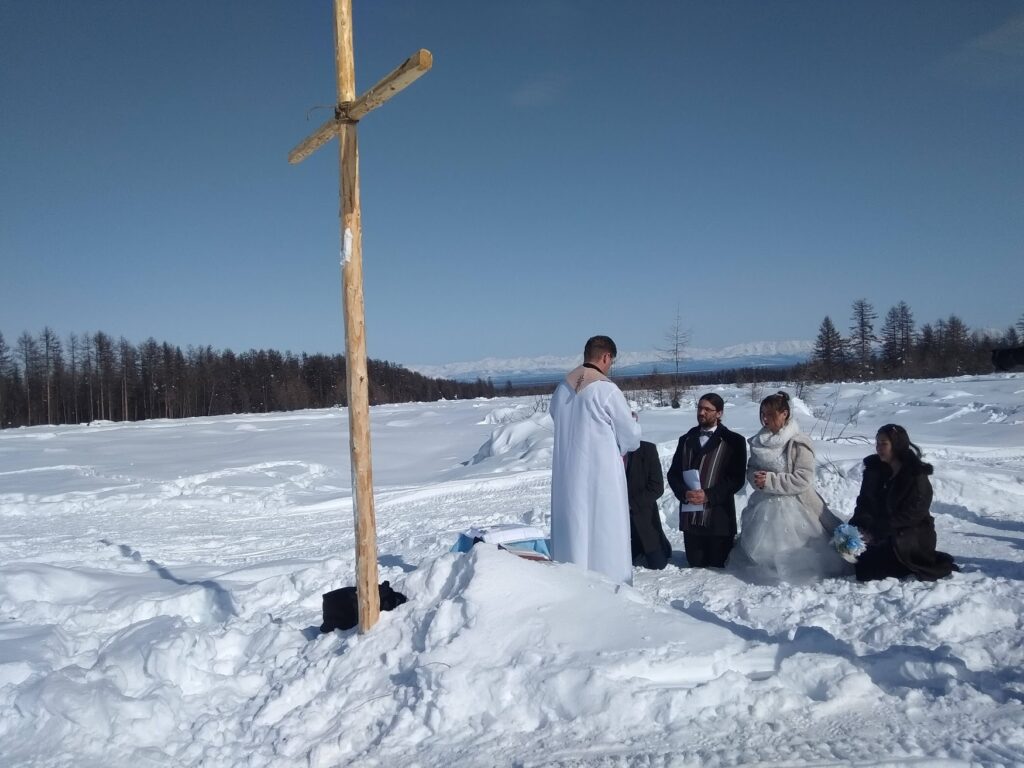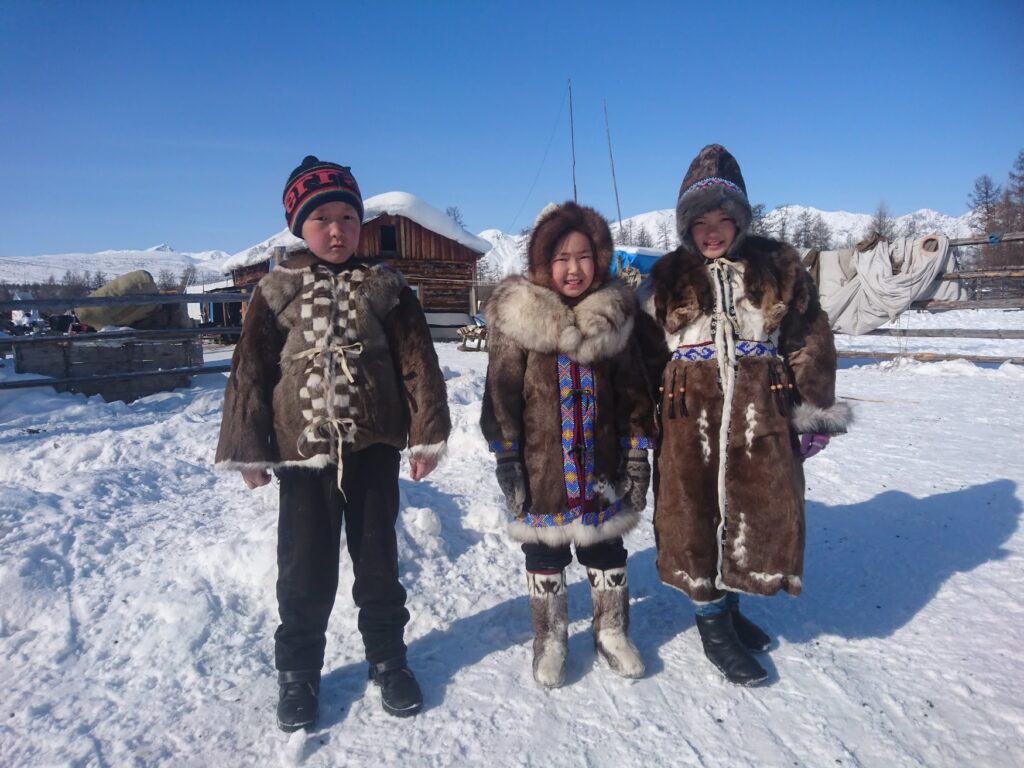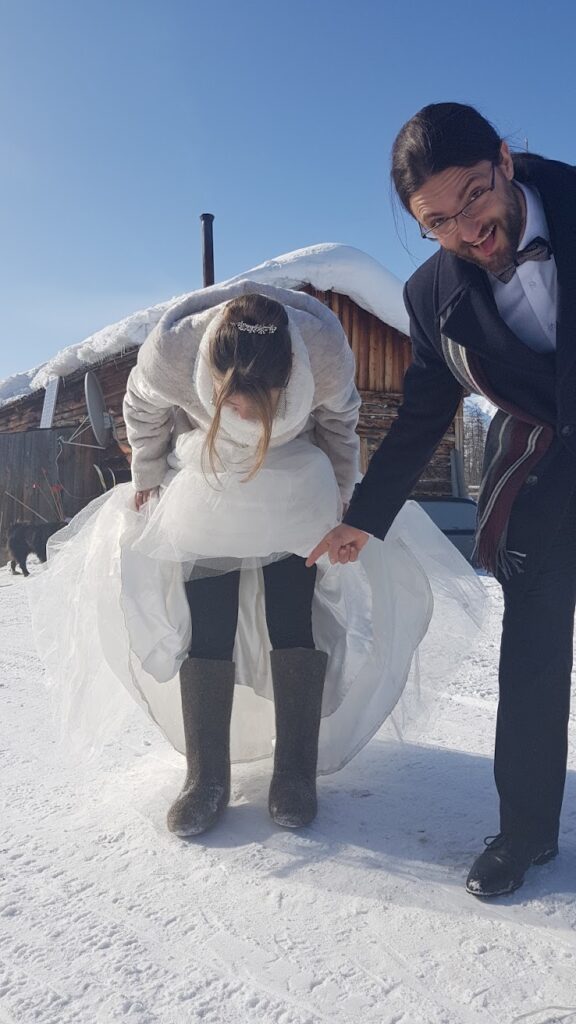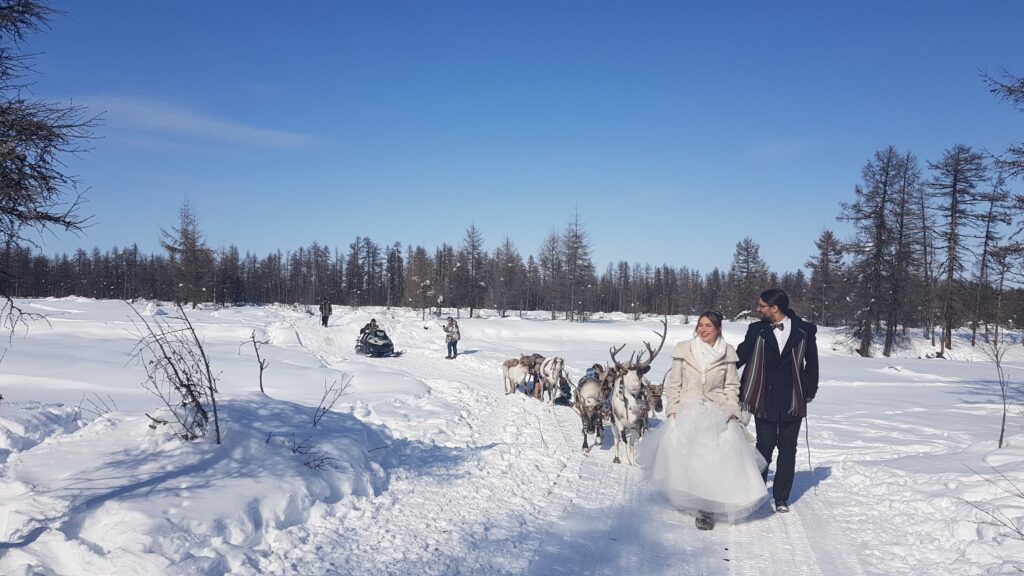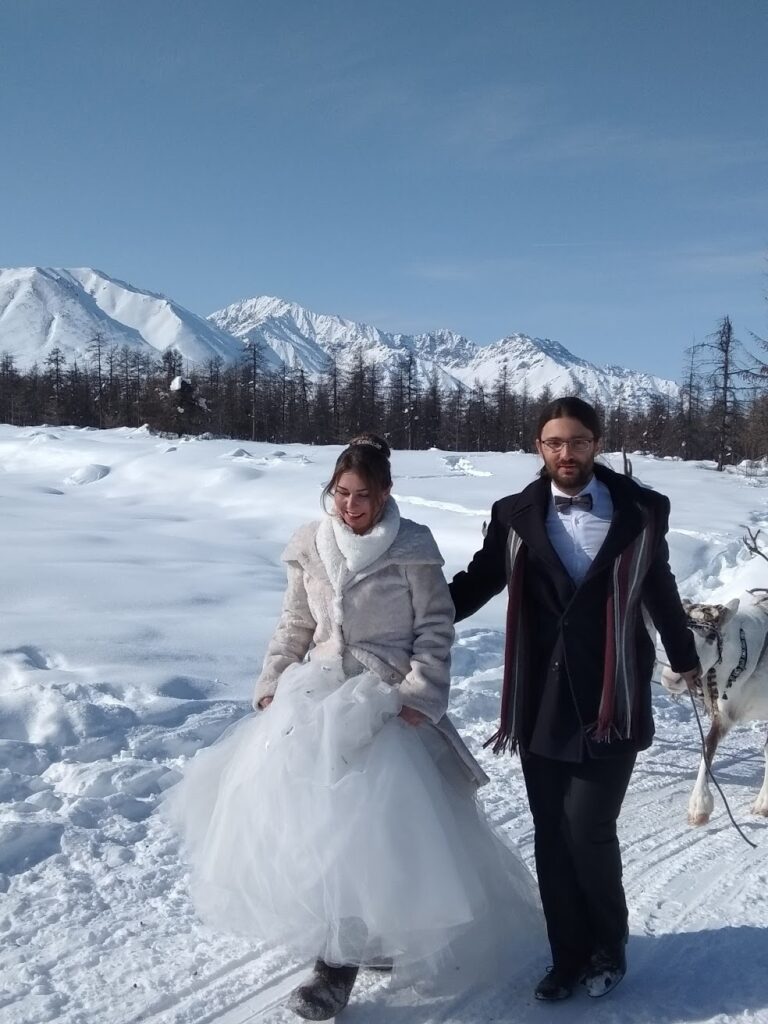 A session and a trip to the mountains after the ceremony: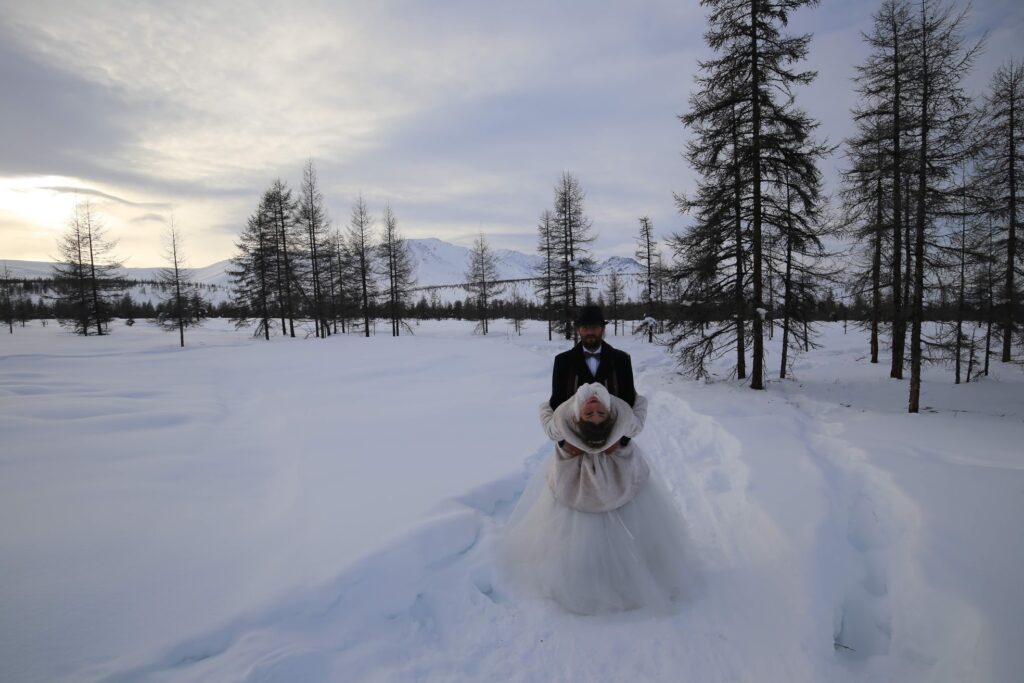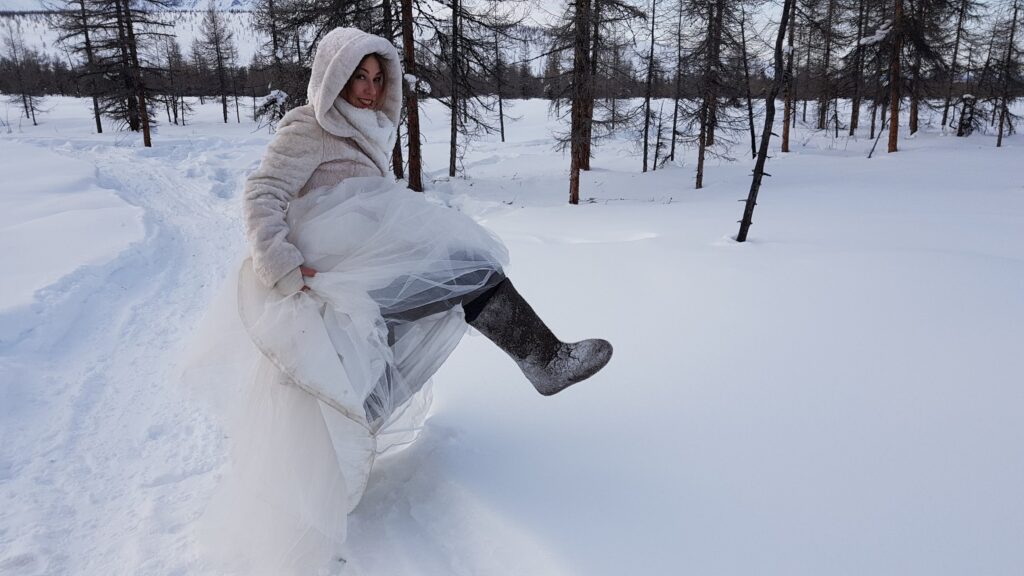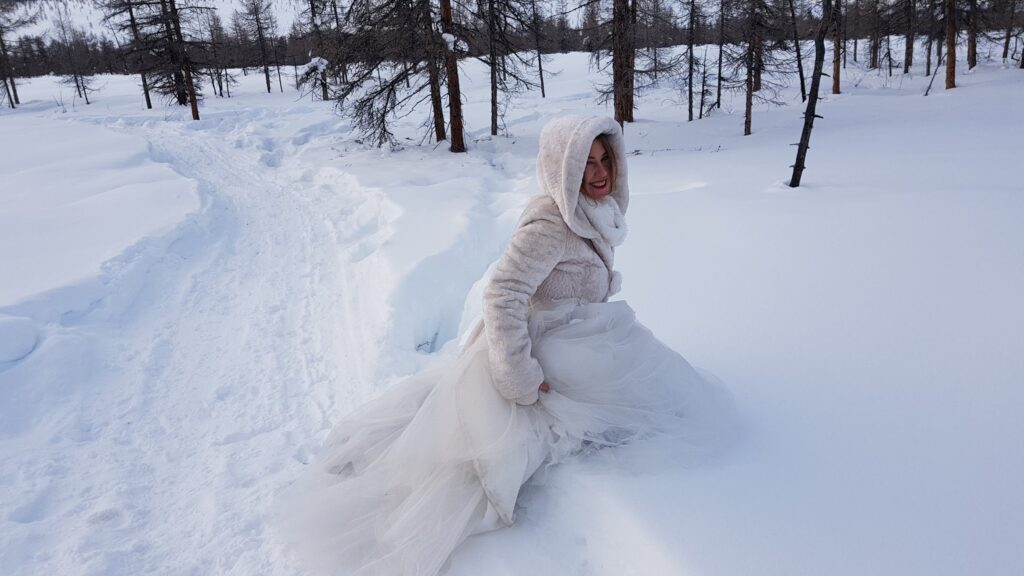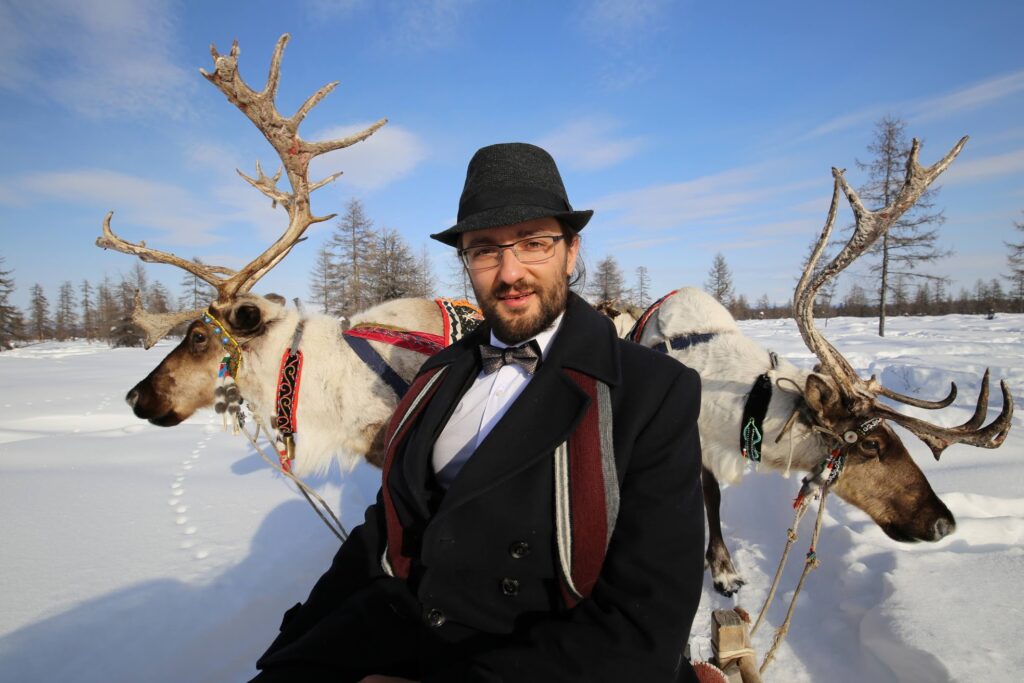 Preparations: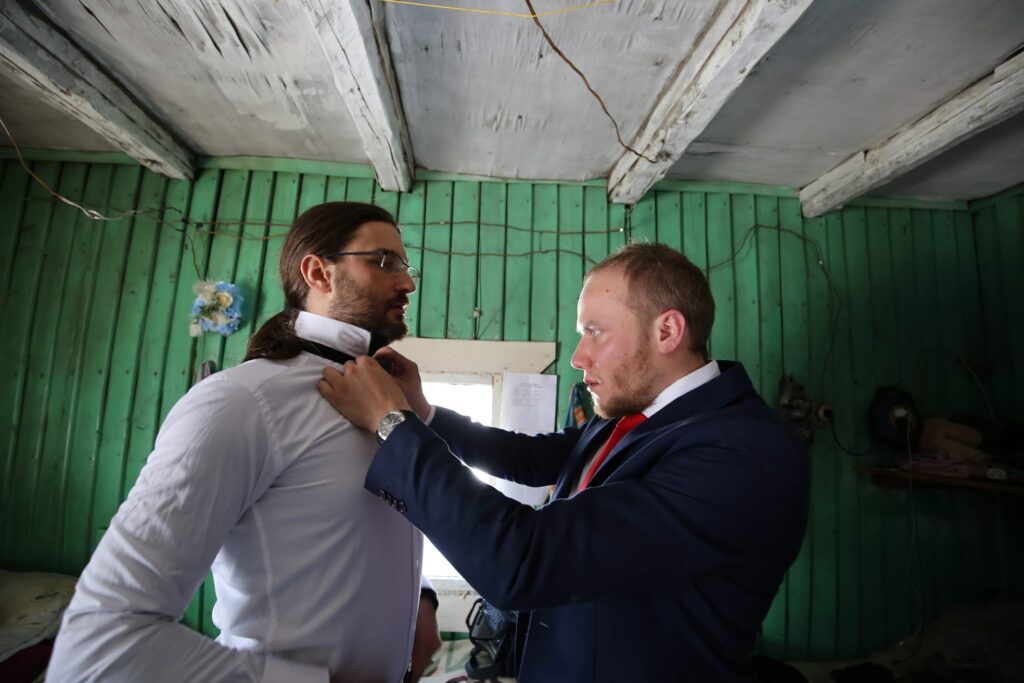 A journey to the reindeer camp in Chersky Mountains: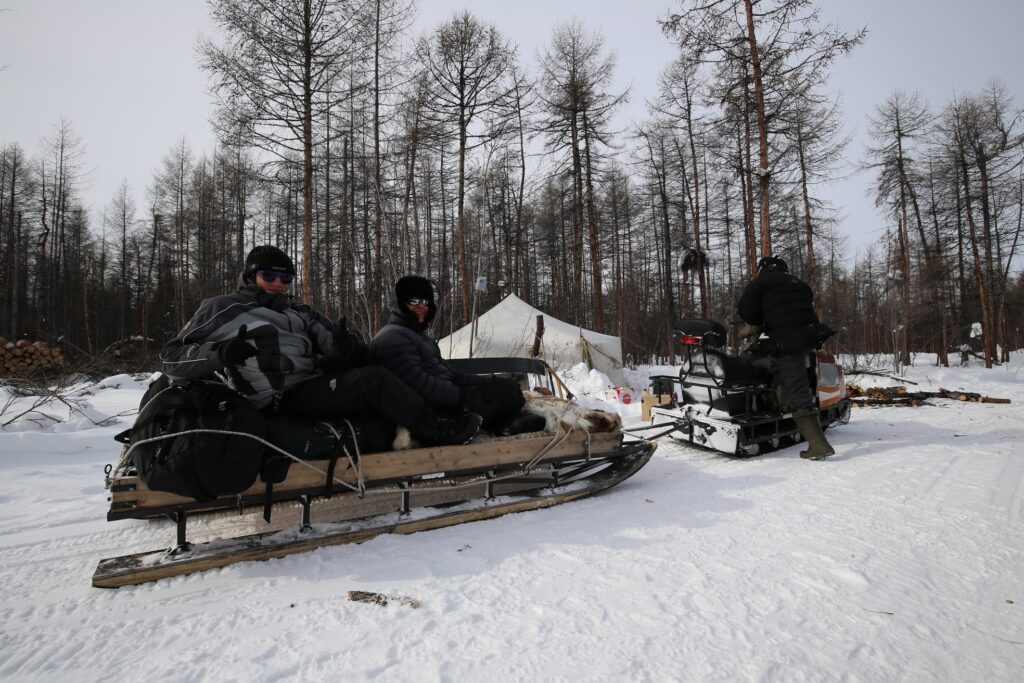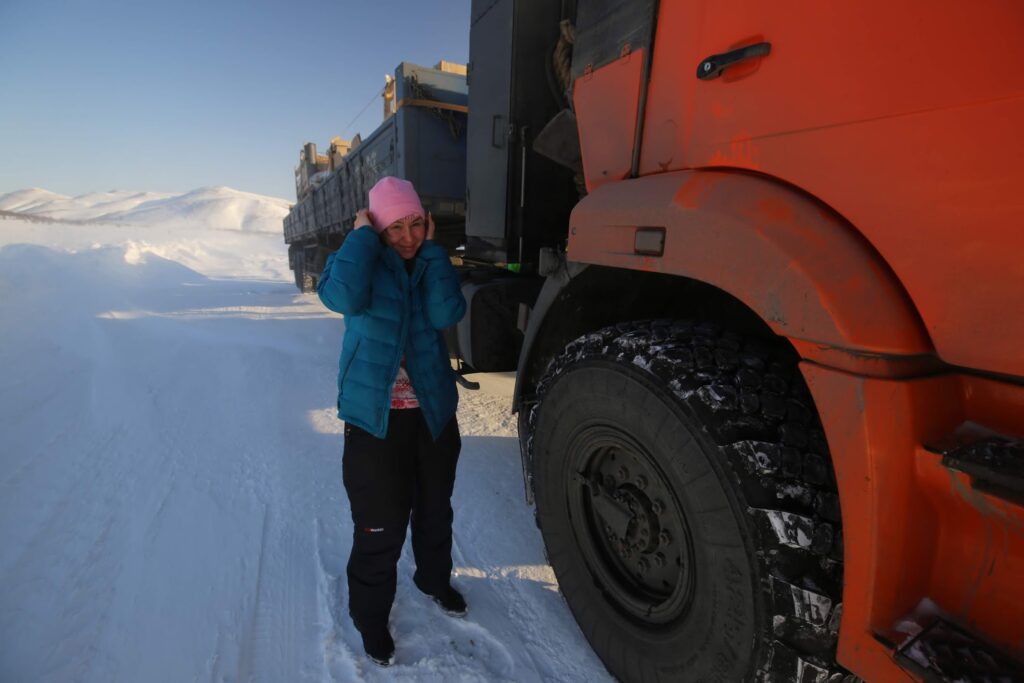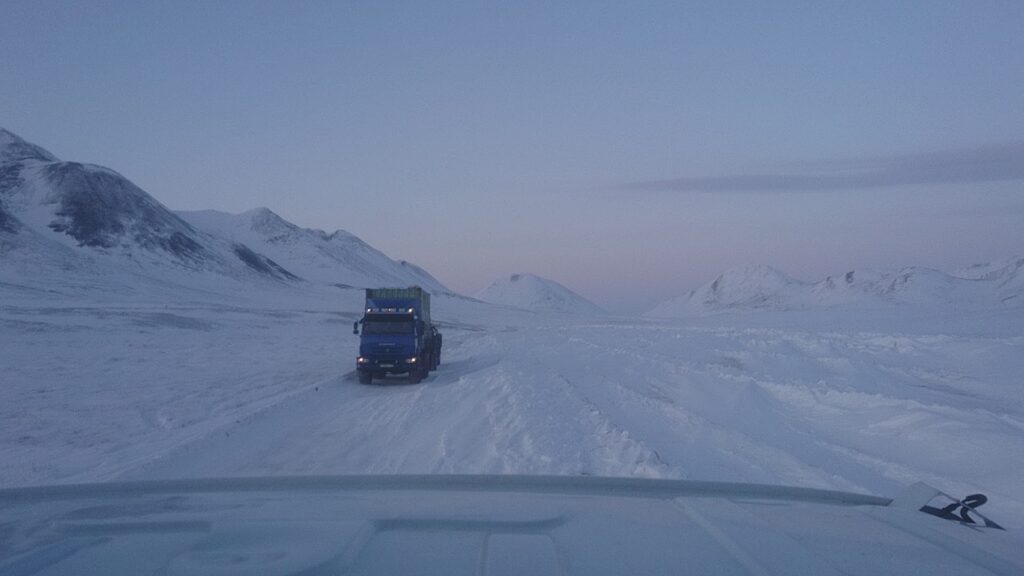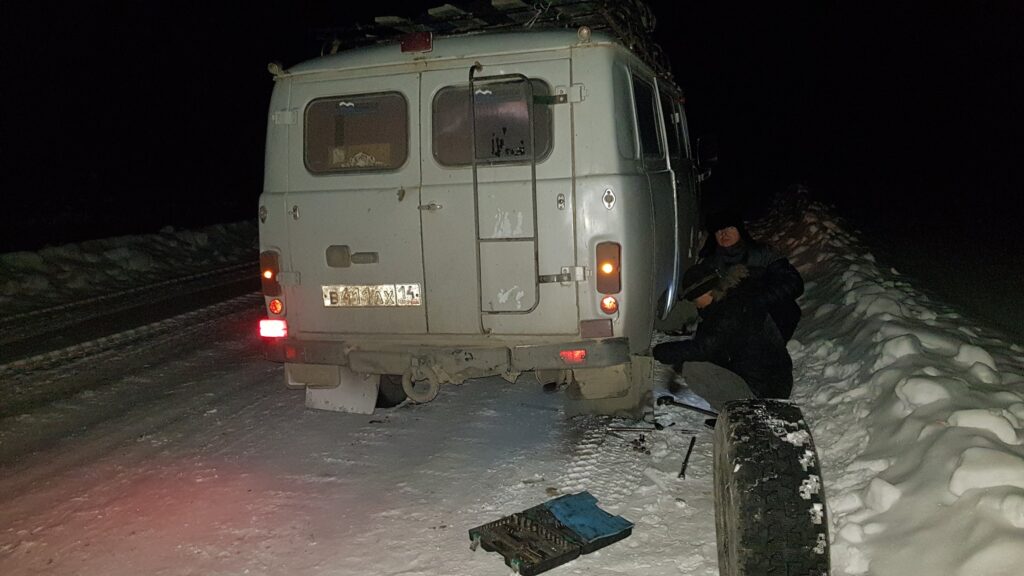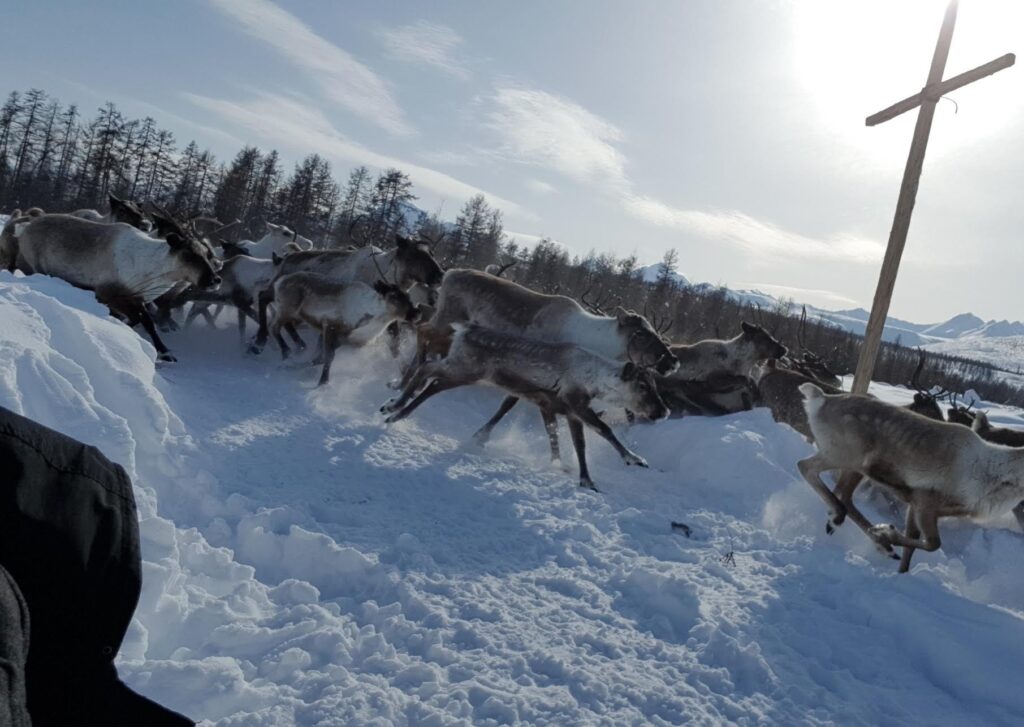 Special thanks to / Podziękowania dla / Большое спасибо к …
Во-первых, большое спасибо отцу Маросу и отцу Питеру за их неоценимую помощь во многих элементах предпринимательства. Мы также благодарим местные епископ за его разрешение провести наш брак в горах. Наконец, мы благодарим «местную команду мечты», особенно Лючи, за то, что нас в морозное утро 🙂
Мы благодарим Ванию, Колу, Пиетию и их семьи за гостеприимство и невероятная помощь в нашем начинании.
Мы благодарим разных друзей в Якутске, особенно Анатолия и Болота, за помощь в различных вещах.
Мы благодарим Виктора из Магадана за его утверждение, что наш безумный план был замечательным!
Мы благодарим Карим и его брата за их готовность отвезти нас в Мому, и за их терпение по дороге. Мы также благодарим всех остальных, которые нам помогли много, особенно водители грузовиков и таксиста из Усть-Неры, который согласился отвезти меня обратно в разбитый автобус на зимней дороге.
Мы благодарим отца Артура за его огромную административную помощь из Цюриха, и за его духовную помощь во время нашей помолвки.
Мы также благодарим наши семьи и особенно наших родителей за их духовные присутствие и их поддержка, изначально немного нерешительно 🙂
Мы благодарим Камиля, который, как свидетель, отправился с нами в горы.
Мы благодарны компании Roberts за пуховики и спальные мешки, которые не раз спасли часть команды в холодные ночи.
Наконец, мы благодарим Бога за его помощь и «провиденциальные» вмешательства в моменты, когда мы исчерпали все доступные варианты и только что-то неожиданный мог бы помочь проекту.


Selected videos: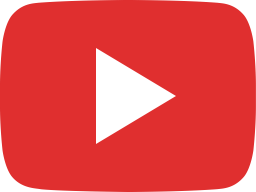 Marriage Expedition: Start in Yakutsk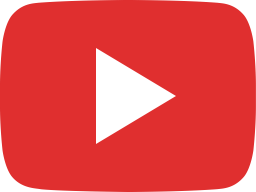 Marriage Expedition: Hitchhiking in taiga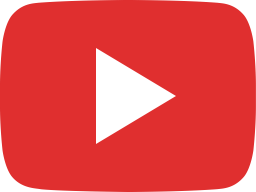 Marriage Expedition: Hitchhiking in taiga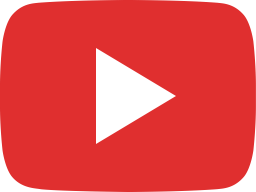 Marriage Expedition: Towards Chersky Mountains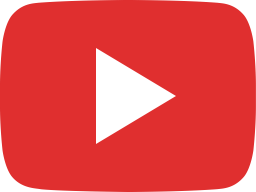 Marriage Expedition: Towards Chersky Mountains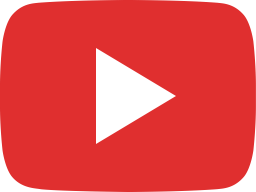 Marriage Expedition: Hitchiking in Chersky Mountains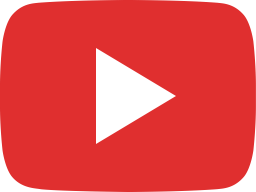 Marriage Expedition: Across Chersky Mountains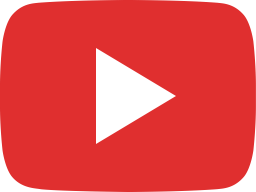 Marriage Expedition: Towards Chersky Mountains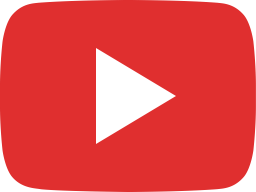 Marriage Expedition: On snowmobiles, towards the camp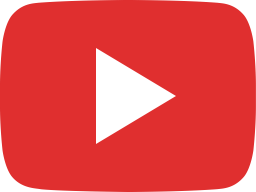 Marriage Expedition: On snowmobiles, towards the camp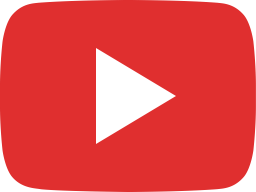 Marriage Expedition: Meeting reindeer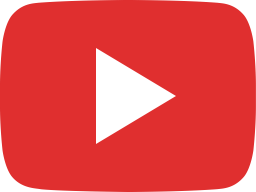 Marriage Expedition: The camp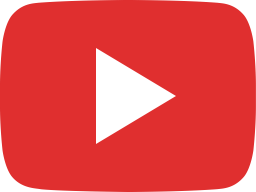 Marriage Expedition: Setting the cross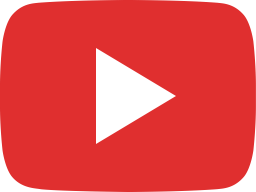 Marriage Expedition: Towards the ceremony location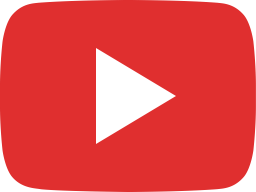 Marriage Expedition: The ceremony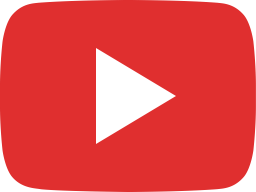 Marriage Expedition: The ceremony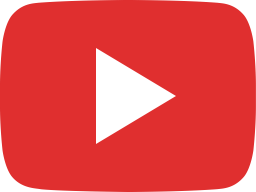 Marriage Expedition: A walk after the ceremony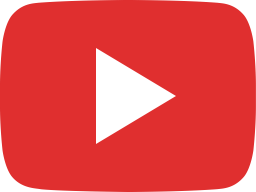 Marriage Expedition: A reindeer ride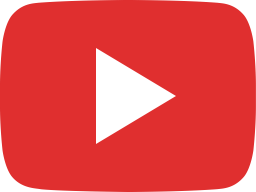 Marriage Expedition: A reindeer ride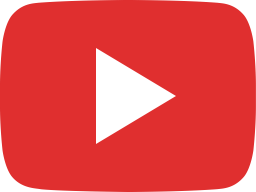 Marriage Expedition: On frozen lakes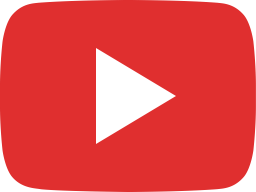 Marriage Expedition: In the snow



Full photo story: