Scientist – explorer
I am a scientist at ETH Zurich, specializing in what is best described by "Understanding and accelerating irregular graph computations". This is an area that sits on the overlap of high-performance computing, large-scale data analysis and data science, graph theory, networking, algorithms and data structures, architecture, and several others.
Every now and then, since the age of 20, I have organized survival and mountaineering expeditions (almost always solo) to remote, uninhabited, usually cold, and logistically demanding mountain ranges and plateaus, in all seasons, with special focus on Siberia and Siberian Arctic.
Why? I strongly believe that my expeditions facilitate the development of personality strength, mental endurance, perseverance and tenacity, resistance to stress, and leadership skills. They have positively contributed to many of my research activities: all the mental and psychological resources developed and trained in very hostile environments can be directly reused when tackling demanding deadlines and any other research challenges. The expeditions are also a great lesson in efficient risk management and decision making: one must learn how to quickly and efficiently make many decisions that may immediately either endanger or save one's life.
Where? As my targets, I select places that are as remote and isolated from nearest civilization outposts as possible, and also completely unexplored and unknown. However, simple geographic distance is not the most important factor. For example, I am not attracted to the North Pole: is is quite isolated but also rather well-known and targeted by many explorers. Instead, I focus on remote areas that are also simply not known at all. An example is Byrranga Mountains, an absolutely pristine and equally harsh mountain range in the Russian Arctic located more than 500km from the nearest reachable village, where I organized solo expeditions. Another example are various Yakutian mountain ranges in winter: very far away from civilisation, and unique due to their extremely low winter temperatures, reaching levels below -70 Celsius.
Why North Siberia and Siberian Arctic? Because this is an extremely hostile and unyielding environment, very challenging, virtually unexplored, and completely pristine in most parts. Both summers and winters come with numerous mental and physical challenges related to weather, climate, terrain. Deep valleys full of swampy and impassable taiga forests; vast, gloomy, and severe plateaus with ferocious winds; unexplored crevassed glaciers; violent and wide rivers; grey and bleak polar deserts; endless marshy tundra; sheer cliffs and deep canyons; technically demanding mountain ridges and faces; temperatures as low as -70 C (without the windchill factor) and as high as +40 C; deep, soft, and unstable snow; vast fields of sharp stones; wild animals; and many others.
Selected explored mountains and plateaus (almost all more than once, e.g., 6 expeditions to Chersky Mountains alone):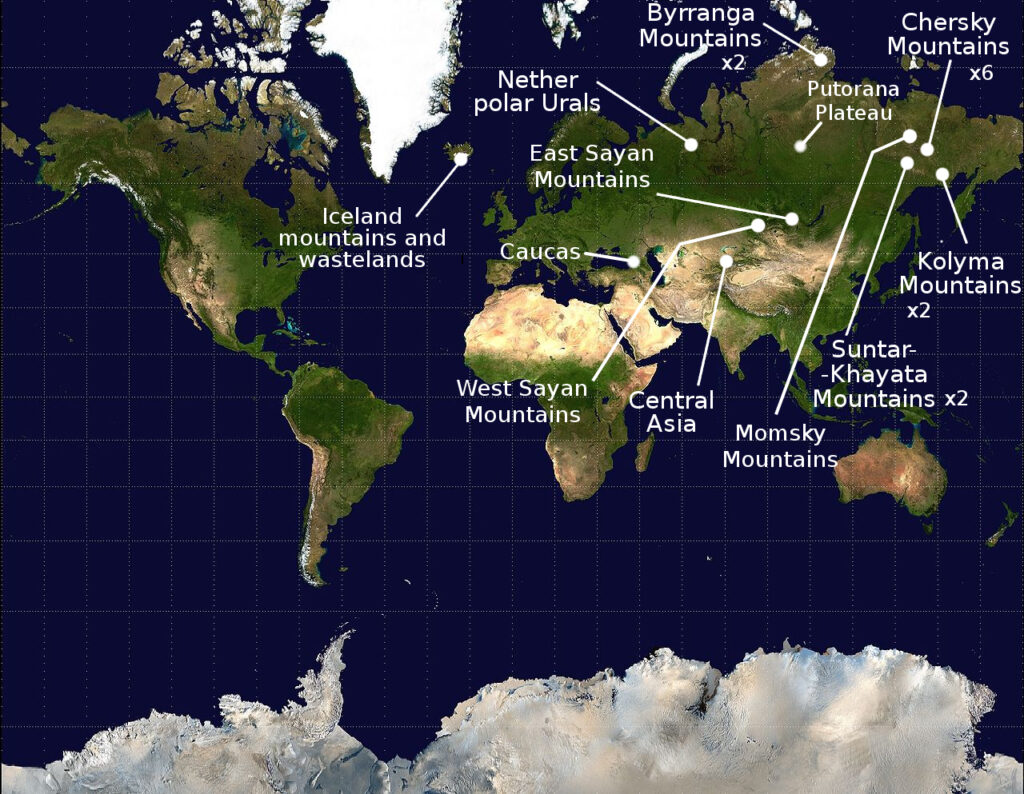 All expeditions are completely unsupported – I always organize and manage all the logistics and the route myself, and never use any form of external help during expeditions.

The maximized metrics in my expeditions are: (1) the isolation and the distance from nearest civilization outposts (and thus indirectly logistics and transportation challenges) as well as (2) the severity of weather and climate.
I am most interested in: (1) climbing remote peaks in full winter conditions in January–February (often previously unclimbed in winter) in the coldest parts of Siberia (e.g., Yakutia, Kolyma) and (2) traversing and exploring the most isolated mountain ranges (e.g., in Chukotka, Taimyr Peninsula, Central Siberian Plateau) all year round.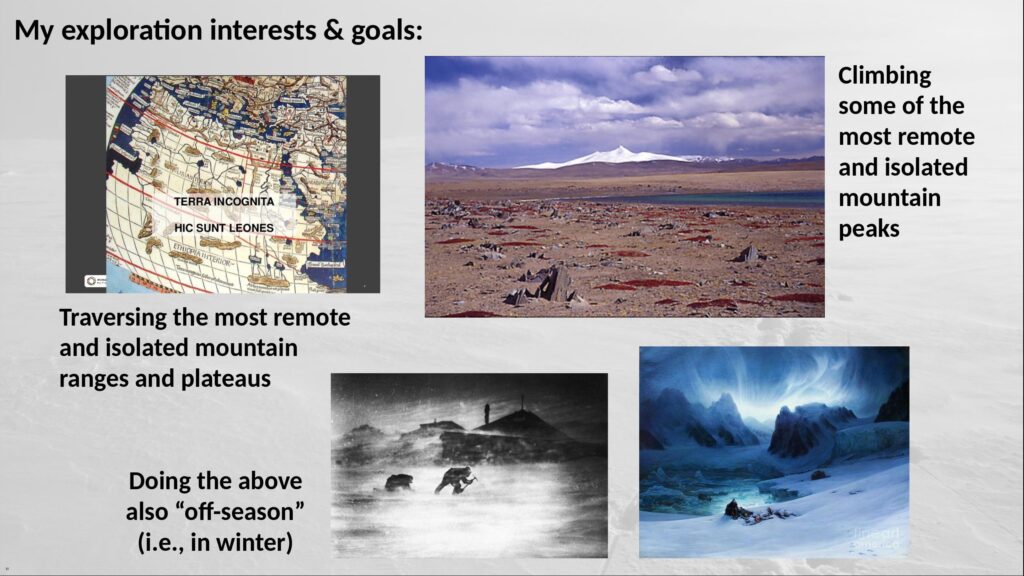 I am an official athlete of La Sportiva, renowned for its highest quality mountaineering and climbing boots. Check the partnership subsite for more information.
Some of the most interesting expeditions so far are:
The first winter ascents (solo) of "the coldest mountains of the northern Hemisphere" – the highest peaks of the Suntar-Khayata and Verkhoyansky ranges, two of the main mountain ranges of Yakutia, located nearby two regions referred to as "the Poles of Cold" (Oymyakon and Verkhoyansk);
The first traverse (solo) of the highest part of Byrranga Mountains, located in the northernmost Siberian Arctic (these mountains are described in research papers as one of the most remote and least studied areas of the whole Arctic);
A solo winter climb of Mt. Elbrus, the highest peak in Europe (done in a very fast style; the whole expedition took 2.5 days);
A solo winter climb of the highest peak (unnamed) in Momsky Mountains (a remote mountain range in Yakutia), done in January, with temperatures down to -55 Celsius;
A "Marriage Expedition" – hitchhiking in winter conditions, on frozen rivers and across mountain passes (together with my fiancee) to deep taiga in Yakutia, getting married (a legally valid Catholic ceremony) at the bottom of the breath-taking Chersky Mountains, and having a memorable party with our befriended herders of reindeers;
The first Polish winter ascent of Mount Narodnaya, the highest peak in the Ural Mountains.
A never-ending source of inspiration and examples are the lives of the exploration giants, such as Fridtjof Nansen, Roald Amundsen, Ernest Shackleton, Richard Francis Burton, Wojciech Kurtyka, Jerzy Kukuczka, Willem Barentsz, Semyon Chelyuskin, Sven Hedin, Henry Hudson, and many others

Click here if you want to check out my research website