Zimowa ekspedycja w Ural Subpolarny 2011. Pierwsze polskie zimowe (marzec) wejście na najwyższy szczyt w górach Ural.
Зимняя лыжная экспедиция на Урал (март), 2011. Первое польское зимнее восхождение на самую высокую уральскую гору (гора Народная).


General information and highlights:
The main expedition highlight: the first Polish winter ascent of the highest peak in the Ural mountains, the Mount Narodnaya (1895 meters).
The mountain is nearly 150 kilometers away from the nearest city.
In very short: we covered around 250 kilometers in 12 days, on skis, fully unsupported.
Temperatures down to -40 C.


Location of the highests peak (Mount Narodnaya):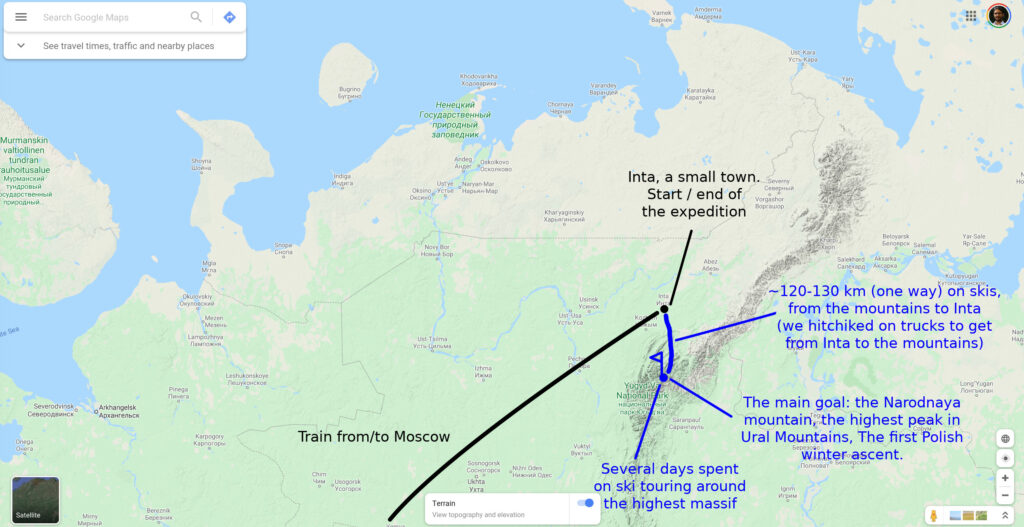 Special thanks to / Podziękowania dla / Большое спасибо к …
All the expedition party, for a lot of patience 🙂
The director of the mine, for giving us a lift!
Rafał Król (https://expeditions.pl) for a lot of insightful equipment knowledge.


Detailed Reports:

Two Polish variants are available under the following links. A photo report further below.

Ural Report by Dziku
Ural Report by Maciej